The National Aquarium in Baltimore is hosting a sustainable seafood dinner on March 25 and guess who's cooking? Chef Jonah Kim of PABU at the Four Seasons Hotel (yep, my favorite restaurant). What a treat!
The intimate and interactive evening will feature a cocktail reception, cooking demonstration by Chef Kim and an amazing dining experience that includes a four-course menu created solely for the event. Guests are invited to come early to explore the aquarium's exhibits. (I highly recommend coming  early…do you know how lucky we are to have this incredible place in Baltimore?!)
Check out this menu…
Amuse
Pungoteague oyster / kimchi mignonette
First Course
Ahi tuna poke
scallions, tobiko, sesame, crispy wontons
Second Course
Asian clam chowder
soy-cured bacon, littleneck clams, root vegetables
Third Course
Miso-glazed arctic char
horseradish pudding, baby beets, black trumpet mushrooms, pomegranate gastrique
Fourth Course
coconut tapioca, purple yam, young coconut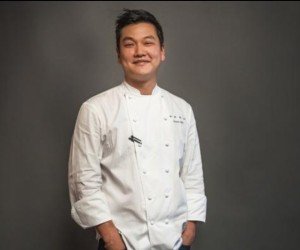 Chef Kim's culinary philosophy of balance and simplicity is fundamental to PABU's authentic Japanese cuisine. "It's the ratio and timing of things," Chef Kim says of his approach to cooking.  "It's the balance between texture and sweetness and spice." You can easily see Chef Kim's meticulous execution and deep appreciation for Japanese cuisine in each dish he creates. His work is spectacular – I'd highly recommend this chance to see him work in this setting.
Yes, dinners like this can be a little pricey, but the intimate nature of the event is so worth it. You meet interesting people, have a beautiful meal and have an experience you will always remember. Last year, I attended a "Bubbles & Barbecue" dinner  with Jerry Pellegrino at Waterfront Kitchen and it was a truly memorable evening. I left feeling like I'd been treated to something very special. I know this one will be quite special, as well. So, pool your resources…skip something, save up. Dinners like this are well worth it if you can swing it.
TICKETS: $79 for National Aquarium members and $99 for non-members. Tickets can be purchased at www.aqua.org or by calling 410-576-3869.
Tuesday, March 25, 2014
6:30 p.m.
National Aquarium, Baltimore
501 E. Pratt Street
Read more at Charm City Cook
Amy Langrehr is the blogger and Instagrammer behind Charm City Cook.She writes about food, drink, cooking and more in her hometown of Baltimore.
Latest posts by Amy Langrehr (see all)