Maybe you don't have the space. Maybe you're going on vacation so you can't do a "real" tree, and just don't want to purchase and put up an artificial one. Or, maybe you want to go really green and forgo the traditional options in favor of something… alternative. We've scoured the web to find some great ideas for festive tree alternatives. Done right, these could all be very green indeed. Swap out regular lights for LEDs, add some eco-friendly ornaments and you're good to go!
TOMATO CAGE
String it with LEDs, add some eco-friendly ornaments and you've got a small, portable tree that's festive, pretty and multi-functional (haul it out in late spring to plant tomatoes!)
LADDER TREE
It may not be much of a space saver, but if you already have a ladder hanging around, you can string it with lights and hang your favorite ornaments on it for a tree that could go industrial or farmhouse chic.
GOT WOOD?
Recycle scrap wood into this cute lean-to tree then tack your favorite ornaments in place.
GOT TWIGS?
A more rustic and natural approach to the idea.
GOT A BRANCH?
Whether you hang it, as in this image, or stick it in a pot, a pretty branch can make for a gorgeous alternative tree.
STRING IT UP
Use string to create a tree on a black stretch of wall, then hang your ornaments for a festive feel.
LIGHT IT UP
You can use lights to do the tree-on-a-wall trick as well.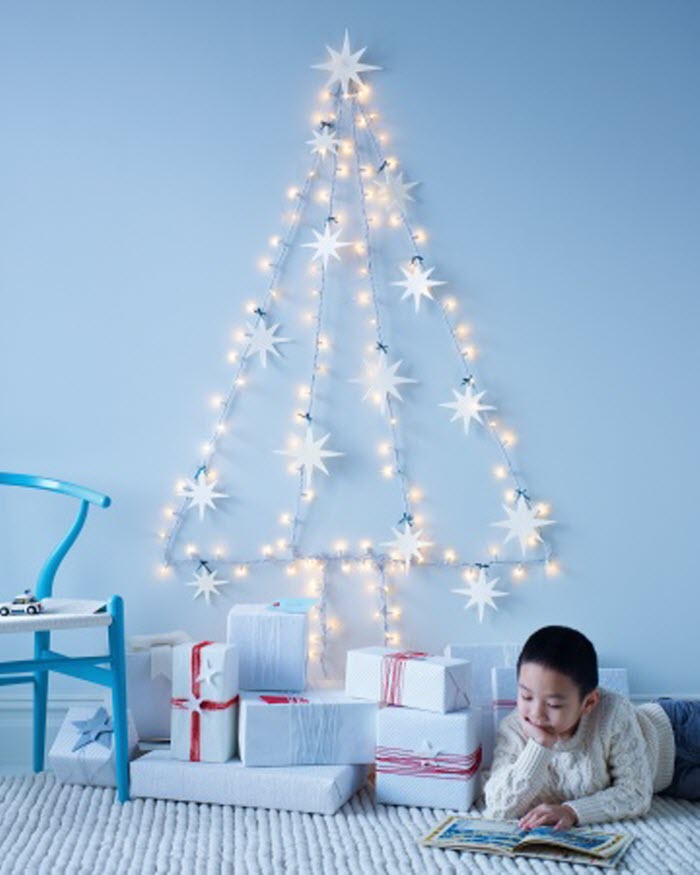 Really, anything can serve as a Christmas "tree" – it's all a matter of how you decorate it. Christmas doesn't require a big evergreen stuck in your living room to be festive. A little creativity and some eco-friendly accessories and you can create a festive holiday display with, or without O Tannenbaum!
Inspired Habitat is written by local environmentally-conscious lifestyle website Bambeco, a company committed to advancing a more sustainable world.