I've been a fan of Ryleigh's Oyster for years. Its chef, Patrick Morrow, is a really talented guy and the selection of oysters on a daily basis is excellent. But there's more to Ryleigh's than just oysters and beer (and orange crushes) – they consistently turn out creative, delicious food from appetizers to entrees. I've been to the location in Federal Hill a handful of times and enjoyed it each time. Those crushes are dangerous!
When I heard the owners were opening another location out in the 'burbs, I thought it was genius – nice to give people out that way another good dining option. My mom lives out that way and I looked forward to going to the new Ryleigh's with her. Then I heard about Ryleigh's Oyster Shore Night. Every Tuesday — at both locations — they have specials on some of my MOST favorite things: steamed crabs and oysters. Also on the menu: beers, wings, corn on the cob and more. My birthday was coming up, so Mom and I made a date for Ryleigh's.
I have a hard time actually calling it Ryleigh's Hunt Valley. As a Baltimorean, I'm about neighborhoods and that part of town really seems to be more Cockeysville than Hunt Valley, but honestly, who cares? The steamed crabs came to the table hot, full and spicy…and the Red Stripe was so cold and delicious. We also had the corn with Old Bay and feta (which we did not love) and the Old Bay wings, which we devoured. After dinner we hit the snowball stand on Padonia, just across York Road. Classic egg custard with marshmallow. I am old school when it comes to snowballs – you just do not mess with that.
Shore Night at Ryleigh's is a great deal, too – $3.00 crabs, $1.00 oysters, $5.00 (BIG) Red Stripe beers and more. The patio is lovely (and quieter than inside the restaurant) and you hardly realize you're sitting along busy Padonia Road.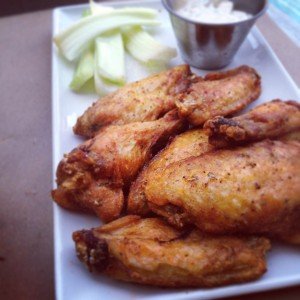 Can't wait to go back to Shore Night again!
Latest posts by Amy Langrehr
(see all)