A gorgeous summer Baltimore night. Bubbles from Cali. Sounds perfect, no?
Yes. Perfect. As I sat along the water in Fell's Point on quite possibly the most beautiful night of the entire summer (it was not raining!) on the terrace at the absolutely gorgeous Waterfront Kitchen, I knew I was in for a treat. The dinner, "Bubbles & BBQ," was co-hosted by Jerry Pellegrino of Waterfront Kitchen and Hugh Davies of Napa Valley's Schramsberg Vineyards. Honestly, I sometimes go to dinners like this and wonder how I got so lucky.
While I could see it was going to a fabulous night of food and wine, it was also a very casual, approachable dinner. (HooRAY, she says!) It was served family style at two long communal tables, so as food came off the grill, it was placed on the table and passed. LOVE. This allows you to meet fellow diners, get comfortable and just have fun. Relax…
And…some guests paid a little extra for the opportunity to be prep cooks: chopping, grilling and more. (I want to do that next time!) Before dinner, they passed simple hors d'oeuvres, as well as oysters right off the grill that were shucked, downed and tossed into the water. That was a lot of fun….everyone just flinging oyster shells off the pier.
Since it was a wine dinner, there was a pairing with each course and (shocker) I liked them all. When you're at an event organized by someone like Jerry Pellegrino, you're in good hands – the man is a pro. Here are a few photos of the food and wine….along with a video of Jerry sabering a bottle. They actually taught some guests how to do it. (Not I, said the chicken.)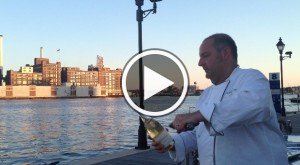 Sometimes I hear about events like this and I look at the ticket price and think, I can't afford that right now. (I've done it a million times…and sometimes I really can't.) But here's what I will tell you…if you can possibly stretch to make it work – give up something else that week? – do it. Dinners like this are very intimate, incredibly gratifying experiences. Sitting there on the water, looking over at the Domino Sugar sign, drinking gorgeous wine and eating amazing food presented by thoughtful and talented chefs I admire? It really and truly does not get much better than that. #ilovethiscity
Sidebar that I need to revisit: Before dinner I was able to take a tour of Waterfront Kitchen's garden and greeenhouse from which they source many of the restaurant's ingredients. Jo Cosgrove, the restaurant's rock star gardener, showed us many crops including squash, tomatoes, herbs and more. It was really impressive. And they have chickens! As we walked through the garden space located on the Living Classroom campus, I thought to myself (and told Jo) that she has THE best job. It's not easy, but wow – doing what you love? That is something special. The entire experience was something special.
About Jerry Pellegrino:
Jerry Pellegrino is a nationally acclaimed chef, restaurateur and wine connoisseur fascinated by the many ways food and wine harmonize on the palate. His understanding of the subject begins at the molecular level, drawing on his advanced education in molecular biology. Pellegrino's cuisine is simple and surprising, pairing unexpected ingredients that work in concert with the restaurant's wine offerings. The Baltimore Sun wrote: "Chef Pellegrino's… food can be sensational, a reflection of what's going on in the best American cooking." Pellegrino's first restaurant, Corks, earned an award of excellence from "The Wine Spectator" and ranked among the top 50 restaurants in Baltimore every year from its opening in 1997 until closing in 2012.
His current project, Waterfront Kitchen, a seed-to-plate concept, opened in 2011. Its menus, whether in the restaurant or for private events, are based on local, seasonal ingredients harvested from the restaurant's own greenhouse and gardens as well as from such urban growers as Big City Farms. In partnership with Living Classrooms, a nonprofit organization, Pellegrino works with middle school kids through BUGS – Baltimore Urban Gardening with Students – both in the garden and kitchen. He holds a certificate from the Court of Master Sommeliers and has been Vice Chancellor Culinaire of the Baltimore Bailliage of the Chaine des Rotisseurs. He has served as celebrity chef for Baltimore's Pompeian Olive Oil Company, is often featured in cooking segments on local television and is co-host of WYPR-FM's "Radio Kitchen."
Read more at Charm City Cook
Amy Langrehr is the blogger and Instagrammer behind Charm City Cook.She writes about food, drink, cooking and more in her hometown of Baltimore.
Latest posts by Amy Langrehr (see all)