I had the pleasure of meeting up with some friends for happy hour a few weeks ago at Charleston. I'd only been there once and it was a million years ago, so I thought it was time to go back. I follow Chef Cindy Wolf on Instagram, which always reminds me of how committed she and business partner Tony Foreman are to using local, in-season ingredients. #golocal
Each Wednesday through August, Charleston offers a special weekly cocktail. They usually post it on Instagram that day and they're always creative and delicious – sometimes I have to Google ingredients, which is kinda fun. Along with your cocktail ($10 or glass of champagne for $8) you receive a lovely little plate of hors d'oeuvres by Chef Wolf. We had squash blossoms, gazpacho and a mini crab and corn salad. While it's not the cheapest happy hour special in town, it just might be the most civilized. Free valet parking, too. Weds 5:00-6:30pm in the bar.
Over at PAZO, they have some fun summer specials, too. If the temperature is above 90 degrees (duh, this is B'more) the dealio is half-off whites, roses and bubbles. And weeknights 5:00-7:00pm in the bar and lounge they offer select cocktails and tapas for $5 each.

                      Photo by Foreman Wolf
Around the corner from Charleston, Cinghale offers a "Cellar Raid" on Tuesdays from 5-10 in the Enoteca – half-priced bottles of wine. Weeee!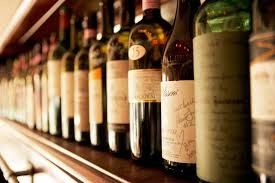 Photo by Foreman Wolf
Up near my 'hood (The Hampdens) in Roland Park, Johnny's has Whiskey Wednesdays every other week – next one is Wednesday, August 7 – and features not just whiskey…but whiskey cocktails! Guests will enjoy four two ounce pours of the following: Whiskey Sour with Maker's Mark, Manhattan with Knob Creek, Old Fashioned with Bulleit Rye and My Thai with Buffalo Trace. The tasting is $25 per guest and includes snacks by Chef Kiko. Call 410-773-0777 x 2 to reserve your place. These events are a lot of fun and I have so much to learn about booze, so I'm definitely going again! #research
Happy hour, it's not just on Friday.
Read more at Charm City Cook
Amy Langrehr is the blogger and Instagrammer behind Charm City Cook.She writes about food, drink, cooking and more in her hometown of Baltimore.
Latest posts by Amy Langrehr (see all)